Taylor Swift Might've Made Up With Katy Perry, But Her Kimye Feud Lives On
Ah, remember the days when the most controversial thing Kim Kardashian and Kanye West did was expose Taylor Swift on Snapchat?
As much as Swift would very much like to be excluded from the Kimye narrative, she still seems pretty bent out of shape about how things went down. At the opening night of her "Reputation" tour in Glendale, Arizona, on Tuesday, the singer seemingly called out Kardashian for turning her into the internet's punching bag. 
"A couple of years ago, someone called me a snake on social media and it caught on. And then a lot of people called me a lot of names on social media," she told the crowd. "And I went through some really low times for a while because of it. I went through some times when I didn't know if I was gonna get to do this anymore and I guess the snakes … I wanted to send a message to you guys that if someone uses name-calling to bully you on social media and even if a lot of people jump on board with it, that doesn't have to beat you. It can strengthen you instead." 
Swift is likely referring to the reality TV star, who shared a secretly recorded phone call between the singer and West with the world on Snapchat in 2016. In the videos, Swift can be heard approving certain lyrics from the song "Famous," which she had previously described as "misogynistic." 
She was quickly branded as a snake, thanks in part to Kardashian's thinly veiled tweet about celebrating National Snake Day. The beauty mogul wrote, "They have holidays for everybody, I mean everything these days!" before including a bunch of snake emojis. 
The backlash prompted Swift to take an extended, monthslong break from the spotlight. She has still yet to give an interview about the feud. When she was ready to return, however, the singer flipped it and reversed it, making the snake a central part of the aesthetic for the new album. 
At the concert on Tuesday night, she danced alongside a giant snake, in addition to adorning microphones and costumes with serpentine imagery. 
"I think something that came out of it that was good is that I learned a really important lesson that I've been telling you from the stage for about 10 years, but I never had to learn it so harshly myself — and that lesson has to do with how much you value your reputation," Swift said onstage. 
"The lesson is that you shouldn't care so much if you feel misunderstood by a lot of people who don't know you, as long as you feel understood by the people who do know you; the people who will show up for you, the people who see you as a human being."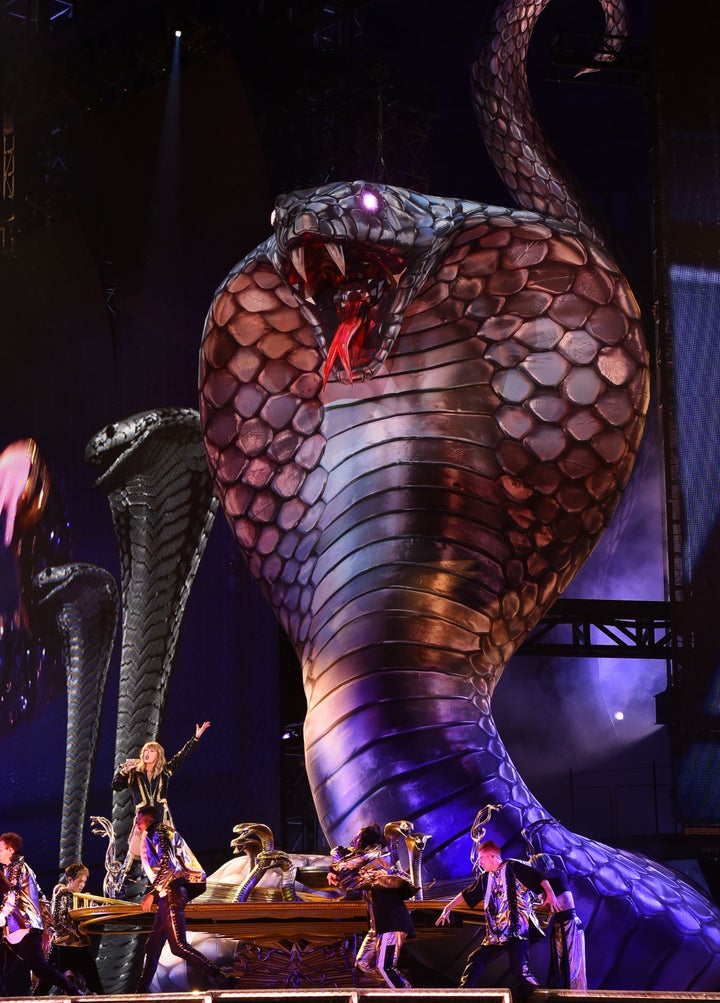 Swift is just beginning her massive tour, so who knows what else she might reveal on the road, but at least we can expect her energy to be focused on just one feud at a time.
Before the show, the singer revealed that none other than Katy Perry, whom she's been at odds with for years, sent her a literal olive branch and note to wish her luck on opening night.
Don't expect a similar gesture from Kardashian anytime soon.