Damn-Near Brilliant Ways To Make Your Bedroom Feel Like Spring
If your home is in need of a light and airy spring refresh, you're not alone. Like clockwork each spring, we feel the need to start organizing our closets, selling and donating unwanted clothes, and storing away bulky winter linens to make room for breathable, summery ones. 
There's no need to wait for the seasons to change to live like it's spring every day. Designer, stylist and author Emily Henderson spoke with HuffPost exclusively about how she creates a spring-ready bedroom year after year. (Hint: You can do it in a weekend!)
"One of my favorite, easy ways to transform a room is to bring in fresh floral," Henderson told HuffPost. "You want to create an 'airy' feeling, something that feels light."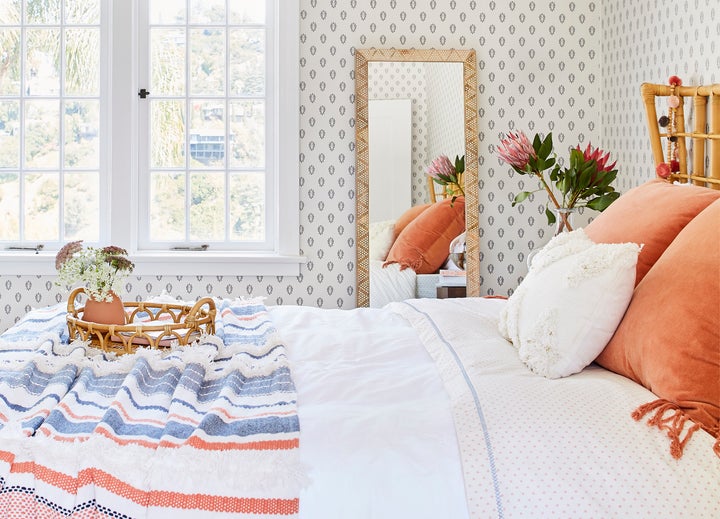 In the video above, Henderson uses products from Target's newest furniture and home decor line, Opalhouse, to design two completely different spring bedrooms. The first has a vintage and worldly style that looks like something you might see at Anthropologie or Urban Outfitters, while the second has a romantic and delicate aesthetic. 
Get inspired for your next redesign with Henderson's five low-effort tips to refresh your bedroom: 
1. Mix in fresh textiles and prints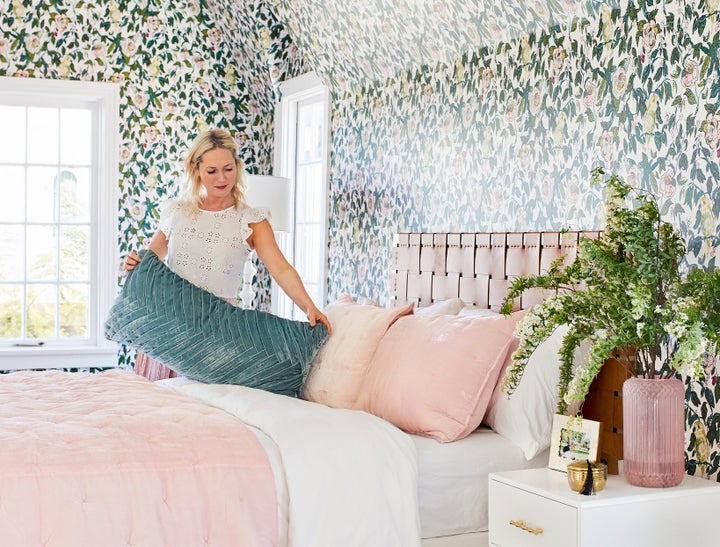 "Layering fresh textiles on your bed is one of the easiest and most impactful ways to refresh a bedroom," Henderson says. "Installing removable wallpaper is another great way to refresh your bedroom over the course of a weekend. If you're apprehensive about wallpaper, start with an accent wall. The busier the wallpaper, the easier it is to install." Just be sure to measure your space before purchasing the wallpaper, she cautions.
2. Add in 'airy' elements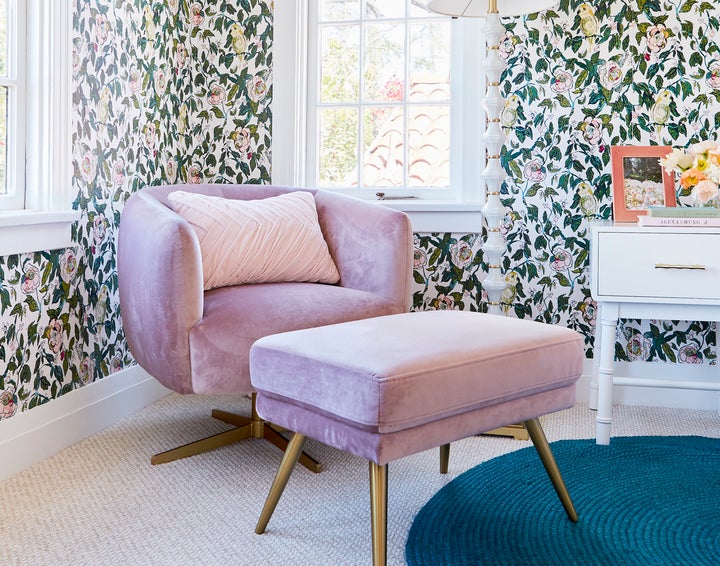 "Introduce light, airy colors to your space," she says. "A white duvet with pastel shams or quilts certainly does this, but if you want to hit it home then think about a floral comforter. I love all of the blush-toned pieces in the Opalhouse collection, they're perfect for the season."
3. Create a feeling of symmetry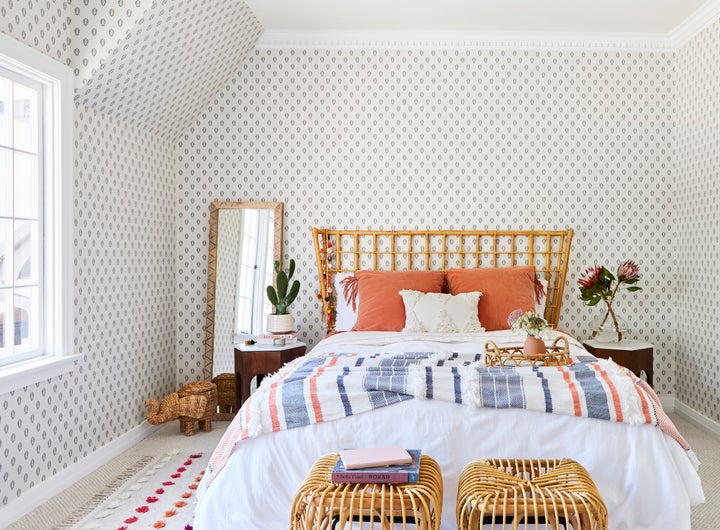 "I enjoy symmetry in the bedroom because it's relaxing on the eyes and calms them down (thus calming me down)," she says, "so I'll notice whether the bedside tables match or not. I will also take note of rug size and position. The most important thing with rugs in the bedroom is making sure that your feet are placed on them when you wake up and get out of bed." Her advice for rugs in the bedroom? Either flank both sides of your bed with smaller rugs, or run one large one under the bed.
4. Know when to splurge and save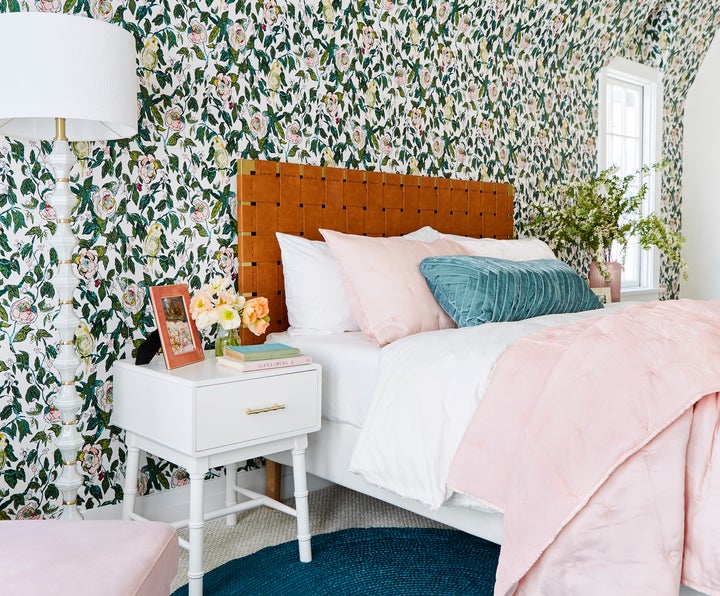 "Splurge on pieces that you'll switch out either less often or never, like sconces and ceiling fans," she advises. "Accent pieces like trays, picture frames and throw pillows are great places to save. There are a ton of affordable and stylish lamps and accessories out there these days, so I say splurge on the more architectural moments or an amazing piece of art."
5. Don't forget the fresh flowers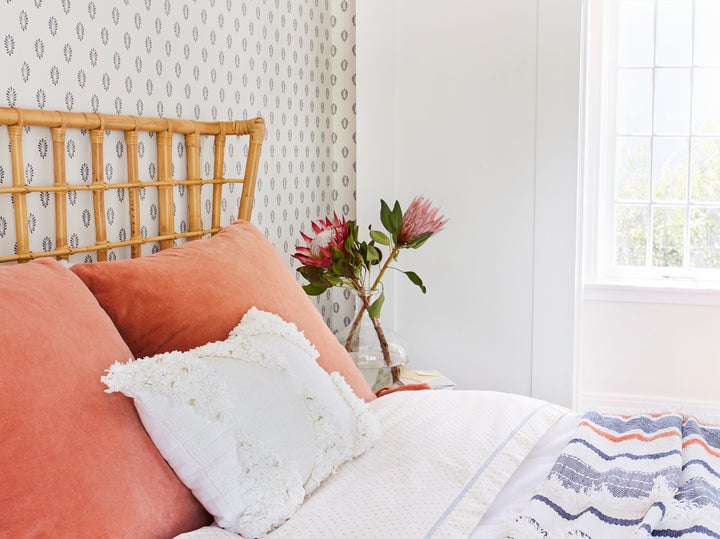 "One of my favorite, easy ways to transform a room is to bring in fresh floral," she says. "There is almost nothing nicer than a bud vase with fresh blooms next to your bed." 
Below, shop Emily Henderson's two spring bedroom styles: 
PHOTO GALLERY
Emily Henderson's Vintage And Worldly Spring Bedroom
PHOTO GALLERY
Emily Henderson's Romantic And Airy Spring Bedroom
HuffPost may receive a share from purchases made via links on this page.