Boy Survives 12 Hours In L.A. Sewer After Falling Into Drainage Pipe
Jesse Hernandez will never forget this Easter ― though he'd probably like to.
The 13-year-old Los Angeles resident spent nearly 12 hours in the city's sewer system after he fell into a drain pipe about 4:30 p.m. Sunday.
Hernandez and some friends climbed a chain-link fence around an abandoned maintenance shack in Los Angeles' Griffith Park and started jumping on wooden planks inside the building, according to the Los Angeles Times.
When the planks broke, Hernandez dropped 25 feet down into a 4-foot-wide pipe that was filled with toxic water that was flowing at about 15 mph, KABC-TV reported.
In order to find the boy, officials mounted a camera to a flotation device that had a rope attached and sent it 300 feet down the sewage pipe, the station said. 
It took a while, but the camera helped rescuers determine that Hernandez was near the 134 Freeway, about a mile from where he fell.
"About 4 a.m. we were able to see on one of the video cameras some hand markings on the sewer itself, inside where it appears that he was trying to get out," L.A. Sanitation Department Assistant Director Adel Hagekhalil told KNBC-TV. "Right away, our team focused on that location."
When sanitation workers opened the nearest maintenance hatch to that location, they saw the boy 11 feet down in the pipe, where it was cold, dark and wet.
"The first thing they heard is, 'Help!'" Hagekhalil said. "They were thrilled."
Rescuers lowered a hose to the boy and pulled him to the surface. His first request, officials said, was for a cellphone so he could call his parents, according to the L.A. Times.
After that, Hernandez went through decontamination before being taken a hospital. He was released from the hospital by 11:15 a.m. Monday.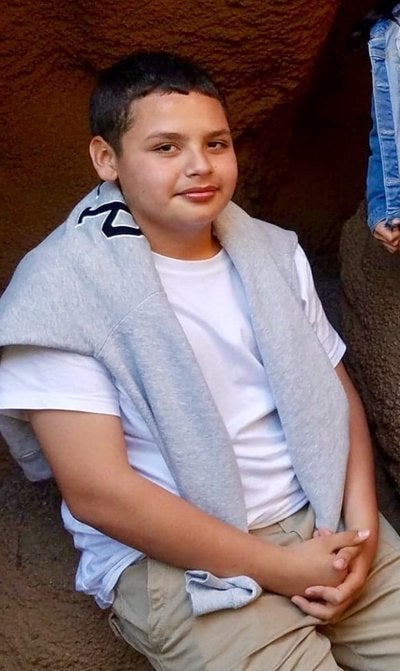 Hernandez has been reunited with his family, and officials are trying to figure out what should be done to the abandoned building so similar accidents don't happen, according to the Los Angeles Times.